Custom Built Trailers in Dandenong & Melbourne
T & P Steel Fabrications is known as one of the best trailer manufacturers in Dandenong and Melbourne. Our custom built trailer services include building heavy-duty plant trailers including small boxes. Car, motorbike trailers, and custom tradesman trailers are included in the range of specialist trailers. We use excellent materials and techniques to produce strong custom built trailers. A trailer is a must-have for a large-scale business or industry. It is always a wise decision to have custom made trailers for specific requirements rather than a generic-sized trailer to meet the actual requirement of the business.
There are various uses of custom built trailers in Dandenong and Melbourne. Adding new features by the trailer manufacturers is one of the advantages when your trailer is customised, which can be incorporated according to our trade needs. This would help in the efficiency and productivity of the business. For e.g., it could be a GPS to track the other shipments.
Customization by our manufacturers also includes the material which can be used inside the trailer depending on the material of product transported in the trailers. This will ensure the safety of the material being transported. Cost-effectiveness is another use of custom built trailers as it can cut down unnecessary parts in the trailer for your business.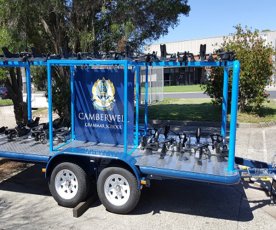 Why Choose Our Custom Trailer Manufacturers?
T & P Steel Fabrications is the leading trailer manufacturer in Dandenong and Melbourne. Our professional staff has a great understanding of the requirements of our customers for their trailers. Our team will guide our customers when it comes to choosing the right material or facility to enhance the efficiency and functionality according to their trader requirements.
Standard specifications offered for custom built trailers are as follows:
New or used tyres and wheels
Gusseted mudguards
Mechanical or electric brake systems
2000, 2800, 3500, 4000 or 4500 Kg ATM running gear
Galvanised checker plate floor
LED lighting
recessed light channel
Ball or ring coupling
Load sharing rocker roller suspension
Tie-down points
Pre-galvanised construction
Contact the Best Custom-Built Trailers in Dandenong & Melbourne
Look no further for the best trailer manufacturers in Dandenong and Melbourne. Mail your specific requirements to T & P Steel Fabrications for your custom built trailers and the best quotes available at sales@tpsteel.com.au. Or call us on 03 9701 3330 or 03 9706 7998. For any specific configuration for your trailer, our professionals are the best choice. Our team of experts will suggest the best quality materials to be used most cost-effectively. Get your free, no-obligation quote right away!